Lip + Skin Tint set
J'aime: I Love
---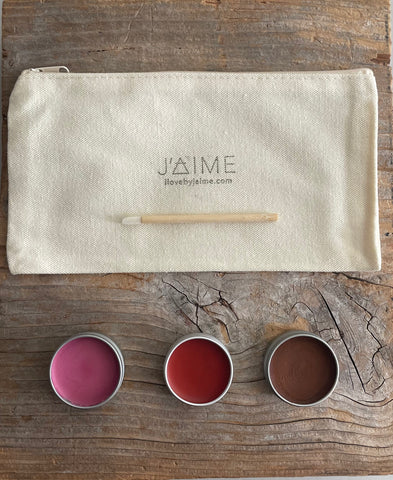 Vegan formulated made to nourish the skin with cocoa, mango, coconut butters + beeswax, mica and a hint of peppermint. Ideal for the lips and face.
Rose Quartz is a beautiful shade of pink perfect for everyday. Ideal to use on the lips, as a blush, eye shadow or as a highlighter for darker skin tones. 
Ruby is a warm, earth red perfect for that pop of color on the lips + cheeks. The more you build, the darker it gets.
Jasper a golden earth brown tone perfect for the fall on your lips, as a eye shadow + conturing and bronzing. 


Healing properties of:
Cocoa Butter: Works to naturally soothe dry, sensitive skin while reducing and preventing the appearance of scars and unwanted marks. It is believed to have photo-protective properties that protect against harmful UV radiation.
Mango Butter: Along with softening and soothing properties, it cleanses the skin's surface of impurities and unblocks pores. The anti-oxidant, anti-inflammatory, and anti-aging properties of Mango Butter make it an effective soothing agent for skin afflicted by dryness, eczema, and dermatitis.
Coconut Oil:  Reduces inflammation, keeps skin moisturized and helps heal wounds. The medium-chain fatty acids found in coconut also possess antimicrobial properties that can help treat acne and protect the skin from harmful bacteria.
Related Products
---