The Prayer Candle
J'aime: I Love
---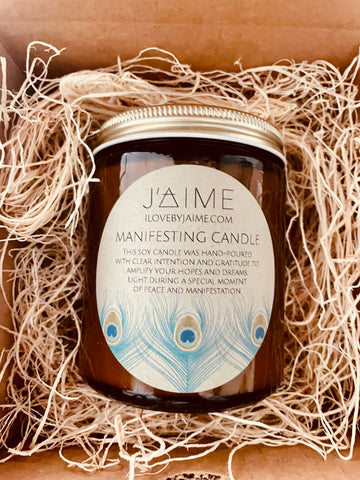 6 oz. Soy Candle hand poured with love, infused with Quartz, Amethyst and Rose Quartz with oils of Rose, magnolia, plumeria and earth musk.
Burns for up to 45 hours.
Note: May come in clear or Amber colored glass depending on availability.


Amethyst - For those who are looking to leap higher in to a spiritual awakening, Amethyst is one of the most important stones in the healing pack. It is strongly associated with the crown chakra and is even said to bridge the gap between the physical and the spiritual realms.
Rose Quartz - Rose quartz spiritual properties are deep and touch the inner longing of your soul. Rose quartz will create a sense of calmness for the inner peace and self-healing.
Quartz- A "master healer." It's said to amplify energy by absorbing, storing, releasing, and regulating it.
Related Products
---