GLOW facial butter
J'aime: I Love
---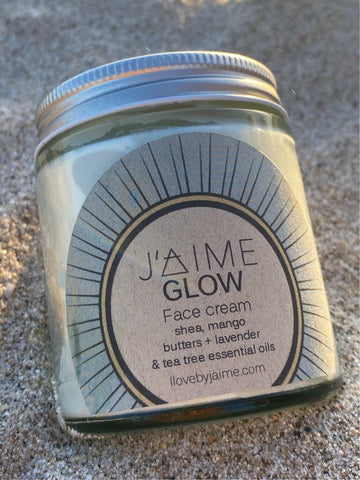 2 oz. of heaven. Pure Shea + Mango butter with Lavender + Tea tree essential oils. 


 Mango Butter: Along with softening and soothing properties, it cleanses the skin's surface of impurities and unblocks pores. The anti-oxidant, anti-inflammatory, and anti-aging properties of Mango Butter make it an effective soothing agent for skin afflicted by dryness, eczema, and dermatitis.
Shea Butter: High concentrations of fatty acids and vitamins make Shea butter an ideal cosmetic ingredient for softening skin. It also has anti-inflammatory and healing properties. Using Shea butter on your body, especially your face, can condition, tone, and soothe your skin
Tea tree oil: distilled from the leaves of the Melaleuca alternifolia plant, found in Australia. The oil possesses antibacterial, anti-inflammatory, antiviral, and antifungal properties. A person can treat acne, athlete's foot, contact dermatitis or head lice using tea tree oil.
Lavender oil: benefits the skin in numerous ways. It has the ability to lessen acne, help even skin tone, and reduce wrinkles.
note: cold weather can cause it to become hard, warm in hands. 
Related Products
---